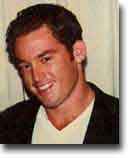 Matthew Smith is one of those emerging artists who leads the viewer through various passages of a physical, spiritual and sometimes surreal nature. His understanding of these passages was inspired by the island home of Maui where Matthew grew up. His respect for nature, the sea, the mountains, and the power and color of nature at its finest all inspire Matthew Smith in his creative journey through life.
The concept of "passage" fits Matthew's work perfectly. The viewer tends to feel involved with some kind of physical passage or process via the architectural references that are found in this unique art. It's almost like going through tunnels of rich color – on a journey of new dimensions. One of Smith's primary bodies of work is the "D`eesse D`amour Liaison" suite…a love affair with the goddess, exploring the spirit of a woman's inner beauty. Smith's special technique achieves a golden glow that emanates from his images. "D'eesse D`amour Liaison" reflects the beautiful soul of a woman set against the backdrop of cultural diversity in a timeless world. He skillfully combines strong masculine elements, powerful lines, and architectural details with soft feminine faces and the gentle curve of a woman's hand.
Matthew could best be described as a colorist. He applies vivid hues to his canvas to share with the viewer the full depth of his passion. This depth is physical as well as emotional. Smith will paint and glaze more than 40 layers of paint onto the canvas, creating a beautiful face with rich colors in oil, then working meticulously with gold leaf and acrylic paints, creating a rich background for the masterpiece. He will often etch through the layers of paint down to the pulp of the paper, achieving a sculpted look as well as multidimensional depth to the finished work of art.
"The colors I choose to use in my work are those I see in my everyday surroundings," says Smith. "I love the blues of the ocean and sky, the greens of the leaves and the mountains, the reds, pinks, yellows, purples, and oranges of the flowers around me. Colors that look antiqued, ancient earth tones and rusty colors interest me."
A painter his whole life, Matthew's artistic talents surfaced during his early childhood while growing up in Detroit. His drawings began as a result of the harsh winters in Michigan. Confined indoors, he turned to art to counter the boredom. After moving to Hawaii at age 11, Matthew focused more and more on his art through school. He further developed his skills at the University of Hawaii Art School, where he earned a fine arts degree with an emphasis on painting and sculpture. A college professor, John Wisnosky, instilled in him the philosophy that, as an artist, you have a license to create what you want.
A Matthew Smith painting is one of those special treasures that captivates the viewer for a lifetime. One collector of Matthew's work described it this way: "His paintings mesmerize the viewer. When you look into the eyes of his goddess, you receive an instant feeling of compassion and understanding from the painting. It is almost as if it comes to life and retains a life of its own."
That's the feeling we like about his body of work.It is like a friend, a companion that you can sit in front of, just gaze at and feel relief in your soul. His work is captivating, drawing the viewer in for a more intimate relationship with the art itself. Collectors who have been drawn to Matthew's work range from NBA basketball coach Don Nelson to founder of the Center for Attitudinal Healing Dr. Gerald Jampolsky and construction foreman Rex Christianson. What do these Matthew Smith collectors have in common? A sense of beauty, tranquility and genius in the creations Matthew Smith expresses on canvas or paper with the whisk of a brush.
Smith has traveled extensively through southeast Asia and the Middle East, and these adventurous journeys always manage to find their way into his paintings. "I have spent considerable time at the Cairo Museum studying the artifacts of King Tut," Matthew recalls. "I would just stare at the golden funeral mask of Tut for hours, letting my imagination run wild. I would go inside the Great Pyramid and meditate in the king's chamber for two hours at a time. These were inspirational moments for me and led to the creation of a wonderful collection of work based on the mythology, spirituality and fantasy of ancient Egypt. I knew this was something I wanted to share with all who entered the gallery to view my work. I like to show this magnificent past now, and I would like to preserve it for future generations to view. I would have to say that Egypt and its mastery of architecture and mythology have been a great influence in my work."